Space Center Houston was my brother's jam. This may have been one of the only voluntary pictures that he wanted to take on the entire trip:
I remember it being really huge and fun when I came here years ago, but when I stepped in, I thought, "this is it?!" Once again, my theory of relativity proved right: everything was bigger when I was a little kid. The museum and its play center was much smaller than I remembered!
The museum was still cool to walk through though, because this time I actually knew what I was looking at!
Meanwhile, inside the space shuttle:
We watched a nice little movie about astronaut life in space then toured the accompanying gallery. We got to go inside this…whatever it's called – what astronauts lived in space? Despite the tiny pictures, the capsule was a pretty good size in real life. However, I can understand what a squeeze it would've been after living in there with the same 6 people for a couple of years.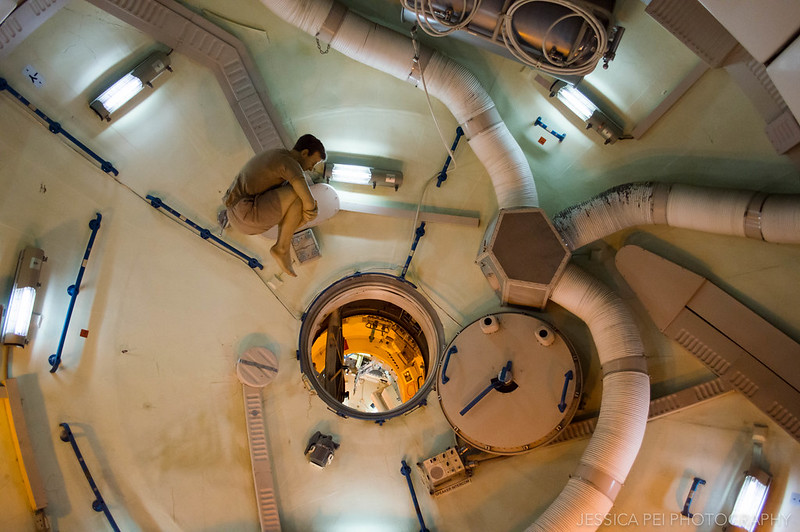 After seeing the museum (which was not all that big), we stood in line for 2 hours to take a tram tour around the NASA grounds, which was built like a college campus to foster a learning environment.
However, the coolest part of the tram tour was seeing the astronauts' training center.
Finally, we looked at the rocket inside the Saturn V building. Man was it huge.
Here's my brother's head next to a rocket booster for comparison:
So there ya go, Space Center Houston. If you ever visit, I highly recommend going on a tram tour. Yes, it's a super long wait. But it really added to the trip and was my favorite part. Seeing the astronauts' training center in person versus watching it on screen felt completely different. Even better, there were two different tours, so if I ever come back, I'm going on the other one. 🙂
Have you ever been to a space center? Which one?
Thanks for reading!